The new NanoCrystal Advanced Paint Protection System utilizes a cross-linking two-stage application process to produce an extremely durable and more visually appealing paint protection coating.
This is a superior performing coating that outlasts all other conventional waxes and protection coatings available today.
This should result in a higher resale value of your vehicle when you decide to sell or trade it in on a newer model down the road.
And this is fully insured 10 year comprehensive environmental
protection warranty!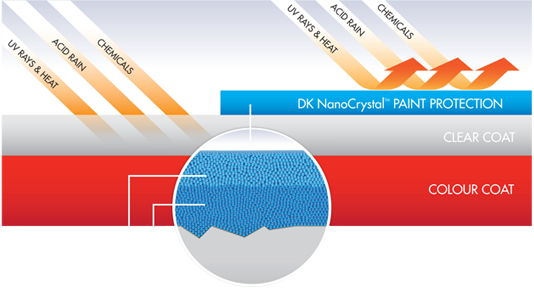 Superior painted surface protection technology in a two-coating application utilizing Nano-Molecular science to increase the density of the surface application by literally billions.
NanoCrystal Paint Protection is a unique transparent cross-link polymer formulation featuring durable fluoro polymer additives and ultraviolet filters. Our Paint Protection bonds to the painted surface in a continuous film that acts as a sacrificial barrier between the paint and the destructive elements your vehicle faces every day.